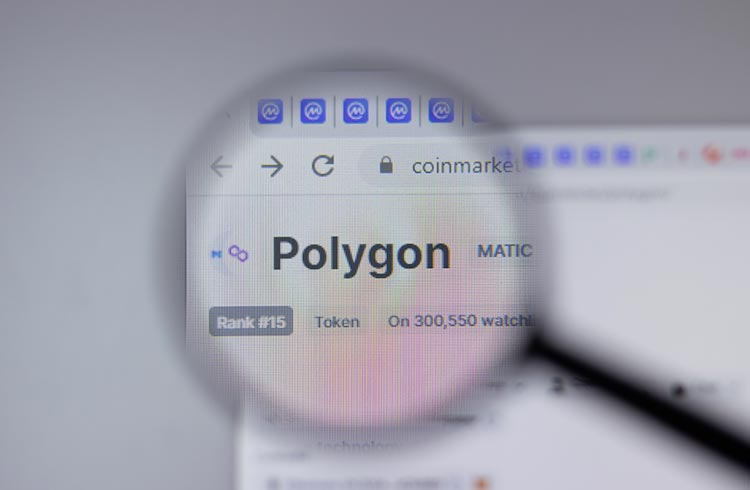 Polygon network (MATIC) rates have peaked sharply over 1,000% in the last 24 hours. According to data from the Polygonscan website, the standard rates reached 500 Gwei. The high speed rates were even more expensive, surpassing the figure of 812 Gwei.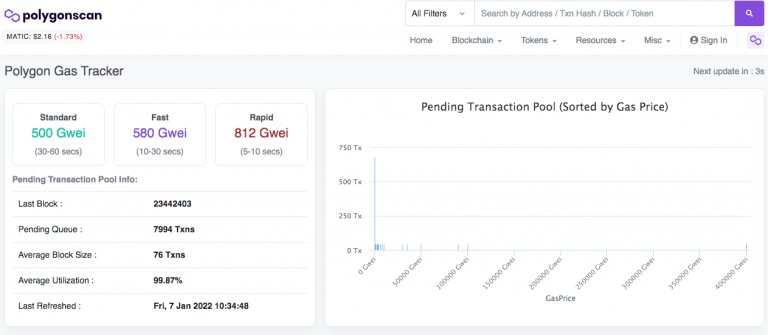 According to security analyst Thomas Kerbl, the reason was the Sunflower Farmers game , which used to consume more than 50% of network fees. The game has a simple dynamic, but each action performed in it requires a blockchain transaction.
As the game was in strong demand, the result was a considerable increase in the volume of transactions at MATIC. Thus, the network began to suffer a series of distributed denial attacks (DDoS, its acronym in English).
However, these attacks were not malicious or intentional, but rather the result of the game's dynamics. In a way, it was the same thing that happened with CryptoKitties in 2017. At the time, the excess of operations ended up overloading theEthereum (ETH) network , something that happened now at MATIC.
"It turns out that the developers thought it was a good idea to store the current state of each player's state in the blockchain – every 25 minutes! And, just imagine!, a new cash-incentive game attracted a ton of bots trying to extract value," said Kerbl.
Bots and miners take advantage of high spikes
With the increased activity at MATIC, block validation became more attractive, which led validators to try to extract value from the situation. In this sense, MATIC registered a series of empty blocks and others with high rates.
This procedure increases network activity, but concentrates this activity in fewer blocks. As a result, gas rates tend to go up. In fact, a Delphi Digital graph shows that the percentage of empty blocks in MATIC (purple bars) has exceeded 10%.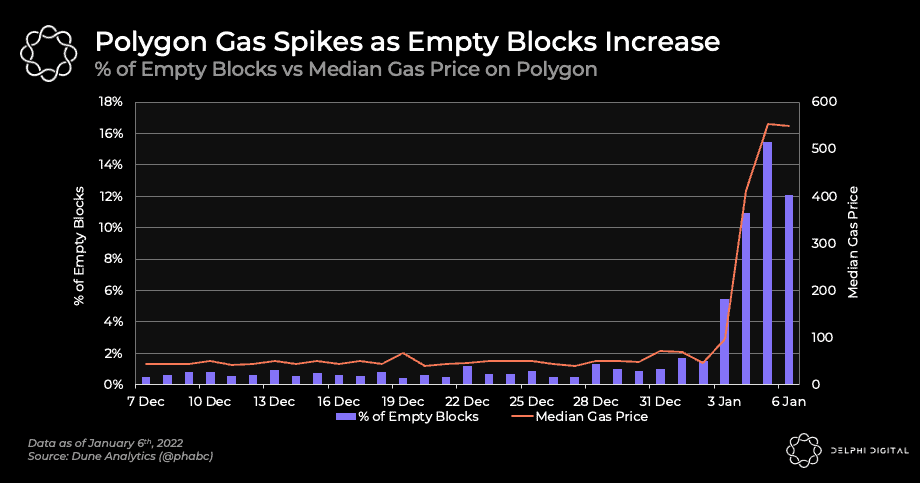 The use of robots (bots) mentioned by Kerbl is a common practice in many play-to-earn games. They are created by players and automatically controlled, aiming to earn in-game rewards. Because robots operate at greater speed than human players, their creators have the upper hand.
On the other hand, players who control their own characters tend to take losses, which increases game concentration. Therefore, networks such as Axie Infinity and others have already established resources to combat the use of bots.
Also read: Bitcoin is already accepted as currency in some places in Brazil
Read also: Curve may initiate bullish movement and overcome market bearish says analyst
Also read: Economist points out two cryptocurrencies to buy and escape the low Bitcoin